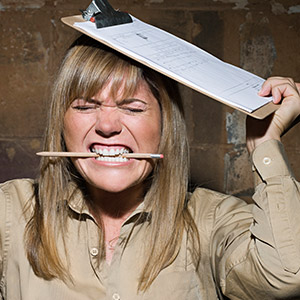 We're all quite familiar with the impact chronic stress can have on our minds and emotions. But stress can also take a toll on physical well-being, even basic physiology like pulse rate and blood pressure. It might also surprise you to know that stress could play a role in some dental problems.
April is Stress Awareness Month, an opportunity to look afresh at this unsettling problem that afflicts many in modern life. As dental care professionals, we focus on how stress could affect your teeth and what you can do to minimize that effect.
Stress is any physical or mental strain in response to a danger or peril in life. It can be a good thing, as the sudden stress a hiker feels upon meeting a bear in the woods, which can focus the mind to take life-saving action. And if expertly harnessed, the "butterflies" a musician feels right before a concert may also serve to improve their performance.
Stress becomes problematic, though, when it morphs into a chronic response to life in general. Besides health problems akin to those we've previously mentioned, chronic stress can give rise to nervous behaviors like fidgeting, smoking or binge eating.
Stress may also give rise to behaviors we don't even realize we're doing—and one such involuntary habit could impact your dental health. Teeth grinding is the gnashing or grinding of teeth together, or mindlessly chewing on a hard object like a pencil.
Although quite common and less concerning in children, it's another matter when it occurs in adulthood. The habit can accelerate the normal teeth wearing that accompanies aging. Abnormally high biting forces generated by grinding can also cause teeth weakened by disease to loosen or fracture.
There are ways to reduce the effects of grinding, like wearing a protective mouthguard or having your teeth altered to reduce the biting forces the habit can generate. But addressing the chronic stress underlying teeth grinding through the following ways could help reduce its frequency and occurrence.
Adopt a healthy lifestyle: Eating a nutritiously-balanced diet, exercising and getting enough quality sleep can help reduce stress.
Avoid drugs or alcohol: These mood-altering substances may help someone cope with stress, but they don't address the underlying issue, and they can create additional physical and emotional issues for the user.
Pursue relaxation: Meditation, biofeedback therapy or even pursuing a favorite hobby could help you better manage your response to life issues causing you stress.
Seek others' help: Sharing your life struggles with trusted friends, family, professionals, or therapy groups can help greatly reduce your experience of stress.
Reducing chronic stress will certainly improve your overall well-being. If you suffer from teeth grinding, it may also do wonders for your oral health.
If you would like more information about stress-related dental problems, please contact us or schedule a consultation. To learn more, read the Dear Doctor magazine article "Teeth Grinding."